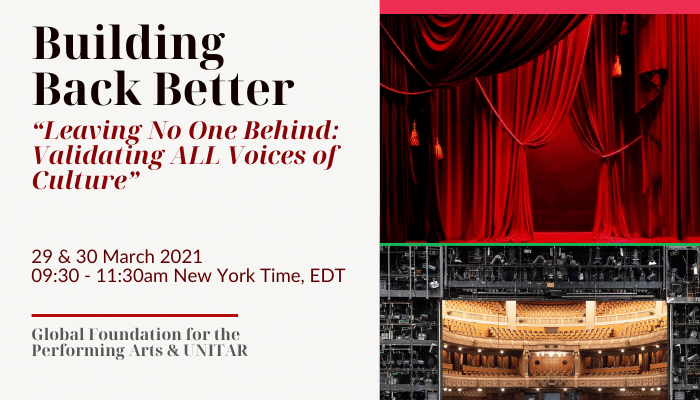 GFPA & UNITAR present webinars advocating for culture
This June, GFPA curated a conference entitled "Building Back Better: Climate & Culture", to discuss topics directly related to Health and Well-being (SDG3), Affordable and Clean Energy (SDG7), Decent Work and Economic Growth (SDG8), Sustainable Cities and Communities (SDG11) and Climate Action (SDG13).
The United Nations has declared 2021 as the "International Year of Creative Economy for Sustainable Development". The creative economy is expansive, and its actors are diverse. Artists will be essential for "building back better" after the COVID-19 crisis with new forms of creativity, presentation and models to advance our society.
"Building Back Better: Climate & Culture" raised questions and invite learned input. How are we adapting our presentations to reduce our impact? Can the performing arts translate the science of climate change to connect to a wider audience? Has the pandemic changed the way we will operate? Who is inspiring you in this arena?
GFPA exists to recognise and advance the importance of artists and cultural practice. Direct dialogue between international cultural leaders and policy-makers is vital to effect positive change and we extend our gratitude to UNITAR for enabling this forum.
Speakers (Alpha order by Surname):
David BAILE – CEO, International Society for the Performing Arts
Anna CERNEAZ – Director, Spring Bay Mill
Inge CEUSTERMANS – General Director, The Festival Academy
Teemu KIRJONEN – General Manager, Lahti Symphony Orchestra
Jonathan KRANE – Founder & CEO, Trella Group
Pamela LOPEZ – Director of Programming and Audiences, GAM Cultural Center
Stéphane NOËL – Artistic & Executive Director, Materialise
Nicholas PAYNE – Director, Opera Europa
Gwendolenn SHARP – Founder, The Green Room
Freeman Hui SHEN – Founder & CEO, WM Motor Technology Group
Henry SOUTHERN – Manager: Tours & Projects, HarrisonParrott
Ben TWIST – Director, Creative Carbon Scotland
Lu ZHANG – Founder & Managing Partner, Fusion Fund
On 29 & 30 March, GFPA curated a two-day, two-session webinar to discuss topics directly related to the UN's Sustainable Development Goals – Education (SDG4), Gender Equality (SDG5), Economic Growth and Employment (SDG8), Sustainable Communities (SDG11) and Peace, Justice and Strong Institutions (SDG16).
"Leaving No One Behind: Validating ALL Voices of Culture", is an opportunity to discuss and learn from a range of artists and leaders in the sector. The COVID emergency has allowed us to re-think every aspect of our lives and has provided a rare opportunity to adjust our practices to "Build Back Better". Panellists, artists, and leaders from a wide range of related communities will present their experience and expectations on how to advance cultural diversity and gender equalities following a time of reflection and pause in the cultural sector.
Speakers (Alpha order by Surname):
Hanna ARIE-GAIFMAN – Director Emerita, Tisch Center for the Arts, 92Y
Miren BENGOA – Former Executive Director, Fondation CHANEL
Lydia CONNOLLY – Director, Head of Artist Management, HarrisonParrott
Jennifer DAUTERMANN – Founding Director, Classical:NEXT
Karendra DEVROOP – Artistic Director, UNISA Music Competitions, UNISA
Alison FRIEDMAN – Artistic Director, Performing Arts, West Kowloon Cultural District Authority
Andrea KALYN – President, New England Conservatory
Alfons KARABUDA – President, International Music Council
Rūta PRUSEVICIENE – General Director of the National Philharmonic Society of Lithuania, Board Member of EFA (European Festivals Association)
Emma SUTTON-WILLIAMS – multi-hyphenate performer, writer, and social media guru
Rebecca TONG – Resident Conductor, Jakarta Simfonia Orchestra
Online Conference Series
The Global Foundation for the Performing Arts (GFPA) has partnered with UNITAR (the United Nations Institute for Training and Research) to recognize and advance the importance of culture, artists and education.