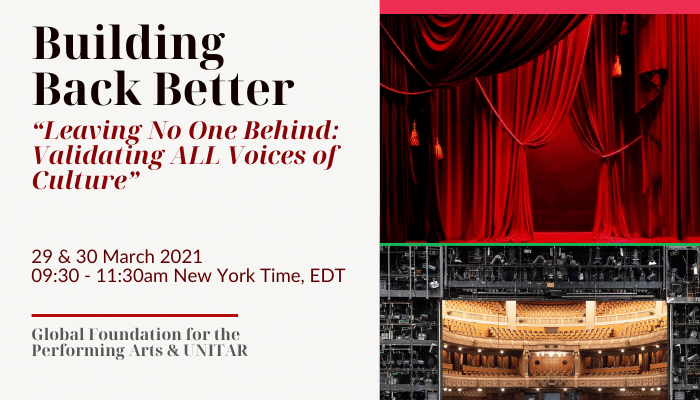 "Leaving No One Behind 2021: Validating ALL Voices of Culture" 
The Global Foundation for the Performing Arts has established a mutually beneficial partnership with UNITAR. Last year, the two entities presented the annual conference: "The Sustainable Development of Classical Music – Securing the Future of Performance".
This year, the collaboration continues. On 29 & 30 March, GFPA is curating a two-day, two-session webinar to discuss topics directly related to the UN's Sustainable Development Goals – Education (SDG4), Gender Equality (SDG5), Economic Growth and Employment (SDG8), Sustainable Communities (SDG11) and Peace, Justice and Strong Institutions (SDG16).
The United Nations has declared 2021 as the "International Year of Creative Economy for Sustainable Development". The creative economy is expansive, and its actors are diverse. Artists will be essential for "building back better" after the COVID-19 crisis with new forms of creativity, presentation and models to advance our society.
"Leaving No One Behind: Validating ALL Voices of Culture", is an opportunity to discuss and learn from a range of artists and leaders in the sector. The COVID emergency has allowed us to re-think every aspect of our lives and has provided a rare opportunity to adjust our practices to "Build Back Better". Panellists, artists, and leaders from a wide range of related communities will present their experience and expectations on how to advance cultural diversity and gender equalities following a time of reflection and pause in the cultural sector.
Speakers (Alpha order by Surname):
Hanna ARIE-GAIFMAN – Director Emerita, Tisch Center for the Arts, 92Y
Miren BENGOA – Former Executive Director, Fondation CHANEL
Lydia CONNOLLY – Director, Head of Artist Management, HarrisonParrott
Jennifer DAUTERMANN – Founding Director, Classical:NEXT
Karendra DEVROOP – Artistic Director, UNISA Music Competitions, UNISA
Alison FRIEDMAN – Artistic Director, Performing Arts, West Kowloon Cultural District Authority
Andrea KALYN – President, New England Conservatory
Alfons KARABUDA – President, International Music Council
Rūta PRUSEVICIENE – General Director of the National Philharmonic Society of Lithuania, Board Member of EFA (European Festivals Association)
Emma SUTTON-WILLIAMS – multi-hyphenate performer, writer, and social media guru
Rebecca TONG – Resident Conductor, Jakarta Simfonia Orchestra