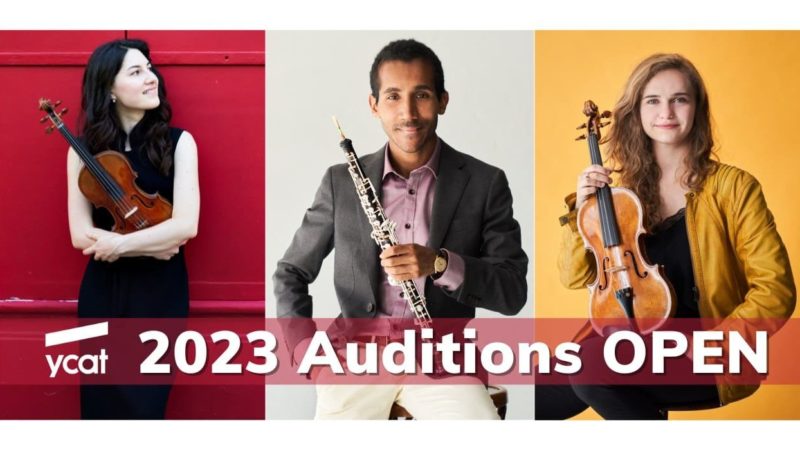 YCAT Auditions 2023 are measured against a standard of excellence and not against each other. The juries look not only for exceptional musical talent, but also for artistic individuality and projection as a performer. No set number of artists are selected in any one year.
Selected YCAT artists will also benefit from our exciting partnership with Concert Artists Guild in New York. This will bring unparalleled visibility, opportunities and support for artists on both sides of the Atlantic.
Applications for the YCAT Auditions 2023 are now open. The deadline for applications and video submissions is Friday 10 March 2023 at 12.00pm.
Selected artists will receive:
3-5 years of developmental and holistic management
Strategic diary of engagements secured worldwide (jointly with Concert Artists Guild in North America)
Comprehensive social media and website consultation and support
Regular marketing to 5,000+ promoters and concert halls worldwide
High-quality publicity materials and professional photo shoots
Live recordings of recitals at Wigmore Hall
Categories for the 2023 Auditions are:
Piano Solo
Piano (Chamber/Accompaniment)
Voice
Strings
Woodwind, Brass & Percussion
Ensembles (2-6 members; groups comprising singers and instrumentalists are eligible)
12-13 April 2023 – Live semi-final auditions (Wednesday 12th) & finalist interviews (Thursday 13th) held in Berlin
14-15 April 2023 – Live semi-final auditions (Friday 14th) & finalist interviews (Saturday 15th) held in London
Friday 2 June 2023 – Public Final Auditions, Wigmore Hall – London