Resiliart – Classical Music's New World 2020
June 22, 2020 @ 8:00 am

-

10:00 am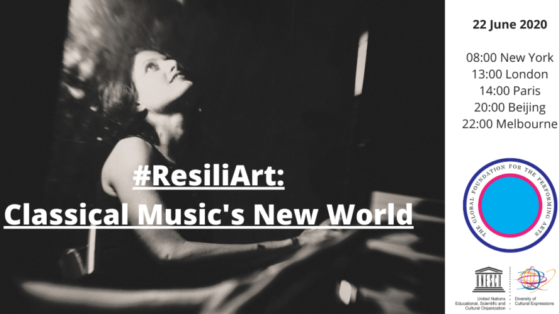 COVID-19 has greatly impacted the classical music sector.  Artists, conservatoires, concert venues and festivals have altered their operations and schedules significantly.  However, this time of re-assessment has inspired new ways of keeping our artform alive.  Opportunities for greater international connection and resource sharing are expanding and alternative futures are being developed.
UNESCO
The Global Foundation for the Performing Arts (GFPA), is extremely concerned by the devastating impact of the current crisis on the livelihoods of cultural professionals and the cultural fabric of our societies.  During the lock-down period, we have relied heavily on culture including dance and ballet performances for emotional support, while the very creators of these artistic expressions have been left with little to no economic or social assistance.
This is why we have joined ResiliArt, a global movement for arts professionals launched by UNESCO on World Art Day (April 15).  The ResiliArt movement raises public awareness of the challenges faced by artists in this time of crisis through virtual discussions with key industry professionals.
We invite you to join us for our third ResiliArt debate hosted in partnership with the UNESCO 2005 Convention.  We will welcome internationally recognised individuals in the classical music sector to this forum to articulate their predictions and to answer your questions.  We invite our friends in the media sector to follow the debate, to consider the ramifications for our artform and reflect on our shared future.
Resiliart – Classical Music's New World 2020
Art is resilient.  Art makes us resilient.
SPEAKERS
MODERATOR
Monday 22 June 2020
08:00 New York | 13:00 London | 14:00 Paris | 20:00 Beijing | 22:00 Melbourne