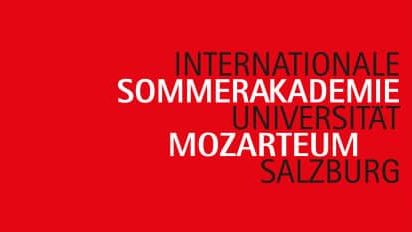 International Summer Academy 2023
Masterclasses, Concerts, Events
Artistic Director: Hannfried Lucke
Application: March 27 – April 24, 2023
To register, please visit our website https://www.uni-mozarteum.at/en/kunst/soak/ and set up your personal account in the section "ONLINE-APPLICATION".
The International Summer Academy 2023 fee includes:
–  4 private lessons, 45 minutes each
–  Attending all other masterclasses as a listener
–  2 hours of practice time/day for active participants in a masterclass
–  3 hours of practice time/day for participants in the piano masterclasses
–  Participation in mock auditions
–  Workshops for breathing technique & bodyworks
–  Yoga in the morning
–  Free entry to concerts and performance opportunities
The International Summer Academy can offer help in trying to arrange accommodation in student halls of residence. When you have successfully booked a masterclass/additional course, you gain access to a list of addresses of possible student halls of residence and private accommodation options. In case of private accommodation options, all rental agreements have to be made with the landlord/landlady directly.
Participants in the International Summer Academy have various performance opportunities:
–  Studio concerts
–  Concerts in external locations in and around Salzburg
–  Mock auditions
–  Final Matinee on Saturday morning after a preselection by a jury
Click HERE for more information.