Sydney Festival 2023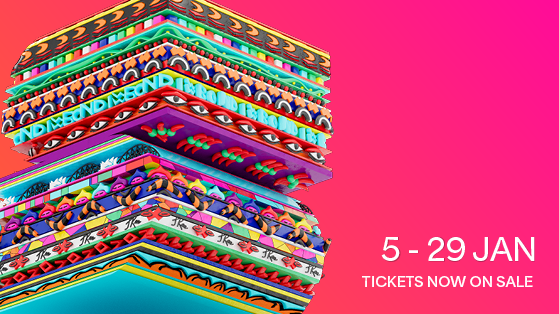 The Sydney Festival 2023 will be held between 5 and 29 January across Sydney, Australia.
Embracing the art of summer since 1977, Sydney Festival 2023 is a city-wide celebration of culture, creativity and the questioning mind. From the streets to the beach, in stately theatres and in secret basements, it animates locations across Greater Sydney with a trailblazing free and ticketed program of theatre, music, dance, visual art and all the experimental in-between places of live performance.
As a dedicated commissioner of new Australian works, Sydney Festival showcases our nation's diverse storytellers to the world, whilst drawing the world's finest artists to Sydney.
Many of Australia's most memorable productions have resulted from Sydney Festival commissions and premieres, including Cloudstreet (1998), Black Chicks Talking (2003), Three Furies (2005), uniquely Australian musical The Adventures of Snugglepot & Cuddlepie and Little Ragged Blossom (2007), the outrageous cabaret Smoke and Mirrors (2010), The Secret River (2013), Black Diggers (2014), contemporary circus ensemble Circa's Humans (2017), multi-award-winner Counting and Cracking (2019) and BLACK TIES (2020).
We're proud to have hosted major Australian musicians, performers and comedians including Nick Cave and the Bad Seeds, Archie Roach, Ruby Hunter, Gotye, Regurgitator, Emma Donovan, Tex Perkins, Megan Washington, Meow Meow, Christa Hughes, Yana Alana and Celia Pacquola.
World-leading artists and companies that have shared work with Sydney Festival audiences in recent years include Lars Jan and Early Morning Opera's Joan Didion's The White Album, performance artist Bryrony Kimmings' I'm A Phoenix, Bitch, and choral choir Tenebrae (2020); Schaubühne Berlin and Complicité's Beware of Pity, Ethiopian legend Mulatu Astatke, Neneh Cherry, and American artist Nick Cave's epic exhibition UNTIL (2019); Wayne McGregor, Olafur Eliasson and Jamie xx's ballet collaboration Tree of Codes, National Theatre's Barber Shop Chronicles, The Wooster Group's The Town Hall Affair, Pussy Riot Theatre's RIOT DAYS, and DryWrite and Soho Theatre's hit Fleabag (2018); Complicité's The Encounter, Cheek By Jowl with Pushkin Theatre's Measure For Measure (2017); James Thierry's Tabac Rouge (2015); Sasha Waltz's underwater dance opera Dido and Aeneas (2014); and Ludger Engels and Vivienne Westwood's Baroque-punk Semele Walk (2013).
These works join a long roster and legacy of extraordinary work and artists including: Ariane Mnouchkine and Thèâtre du Soleil (Flood Drummers); Robert Wilson (The Black Rider); Robert Lepage (Far Side of the Moon, The Andersen Project, Lipsynch); Nederlands Dans Theater; Philip Glass; Ian McKellen (Dance of Death); Batsheva Dance Company; National Theatre of Scotland (Beautiful Burnout, Black Watch, Aalst); Al Green; Chaka Khan; Andrew Weatherall; AR Rahman; Angélique Kidjo; Kneehigh Theatre (Tristan & Yseult, The Red Shoes); and Fabulous Beast (Rian).
Olivia Ansell was announced as the new Festival Director for 2022 by the Sydney Festival Board of Directors in June 2020.
Olivia, a highly accomplished arts professional with over two decades' experience as a director, choreographer and performing artist, commenced her three-year tenure in November 2020. She comes to the role after two and a half years as Head of Contemporary Performance at Sydney Opera House. Sydney Festival 2023 welcomes her direction.
Explore the Featival programme by clicking this link – https://www.sydneyfestival.org.au/explore